QFFM | QUEER MIXTAPE – Kurzfilmabend 2017
15. Dezember 2017 | 20:45 Uhr | Filmtheater Sendlinger Tor | ca. 115 Minuten
FR | 15. Dezember 2017
20:45 Uhr
Das Jahr neigt sich dem Ende zu. Die Tage werden kürzer. Passend dazu lädt das Queer Film Festival München wie auch in den vergangenen Jahren zum Kurzfilmabend. Die fünfte Ausgabe des vielseitigen Programms wird dieses Mal im traditionsreichen Filmtheater Sendlinger Tor gezeigt, damit alle Filmbegeisterten in den Genuss der neusten nationalen und internationalen Kurzfilmperlen kommen. Preisgekrönte Filme und hidden gems zeigen das breite Spektrum des queeren Filmschaffens und Lebens abseits von normierten Pfaden. Abgeschlossen wird der Abend mit der Wahl des Publikumslieblings, der dann beim 3. Queer Film Festival München (17.-21. Oktober 2018) das Programm eröffnen wird. So abwechslungsreich und kurzweilig lässt sich das Jahr 2017 am besten verabschieden.
Achtung, das Programm enthält Szenen mit Gewalt, Nacktheit und Mobbing.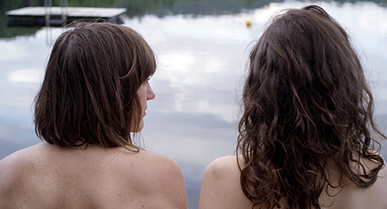 photo © La Mer a Boire Productions
BLIND SEX
Spielfilm | FR 2017 | 30 Min. | R: Sarah Santamaria-Mertens | franz. OV mit dt. UT
Die 20-jährige, blinde Louise muss das Ende der Sommerferien mit ihrer Mutter und ihrer Schwester verbringen. Sie verirrt sich auf einen FKK-Campingplatz, die Begegnungen und Erlebnisse dort reißen sie aus ihrem routinierten Alltag.
At the end of the summer holidays Louise, a 20 years old blind girl is stuck with her mother and sister. Lost in a forest she reaches a nudist campsite where an unexpected encounter will shake up her habits.
Festivals (Auswahl):
Premiers Plans Angers 2017 (Beste Darstellerin), Clermont-Ferrand 2017, Brive Film Festival 2017 (Young Jury Award), Lovers Film Festival Torino 2017, Palm Springs ShortsFest 2017, QUEER Filmfest Weiterstadt 2017, MIX Copenhagen 2017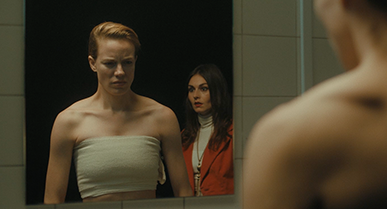 photo © Jake Graf 2017
DUSK
Spielfilm | GB 2017 | 15 min | R: Jake Graf, engl. OV
Chris wächst in den 1950ern in England auf und kämpft mit den von der Gesellschaft vorgegebenen, traditionellen Geschlechterrollen. Erwachsen begegnet Chris die Traumfrau Julie und auch wenn das dem Leben die Schwere etwas nimmt, wächst in Chris die Überzeugung, dass ihnen beiden etwas Wichtiges fehlt. Schließlich wird Chris klar, dass es für manche Entscheidungen keine klaren Antworten gibt und gerade dadurch unsere Identität bestimmt wird.
Growing up in 1950s England in an intolerant and uninformed world, young Chris Winters struggles to fit into the gender roles dictated by wider society. A more than tough childhood left behind, Chris meets dream woman Julie, and life lightens a little, but the growing feeling that theirs is a life half lived haunts Chris. Endlessly imagining what might have been, Chris is finally struck by the realisation that for some decisions there is no right answer, and that it's those that truly define us.
Festivals (Auswahl):
Pink Apple Zürich 2017, Translations Seattle Transgender Film Festival 2017, Inside Out Toronto 2017, Out Shine Film Festival Miami 2017 (Best Short Film), Frameline San Francisco 2017, Outfest Los Angeles 2017, Film Out San Diego 2017 (Best International Short Film), DC Shorts Washington 2017, Sydney Transgender International Film Festival 2017 (Best Short), homochrom Filmfest 2017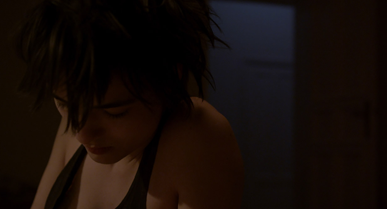 photo © Lukas Röder / Adrian Campean
HEIMLICH
Spielfilm | DE 2017 | 7 Min. | R: Lukas Röder | dt. OV mit engl. UT
Nachts bricht Paula in die Wohnung einer fremden Frau ein. Sie legt sich zu der Schlafenden ins Bett, kommt ihr nahe und verlässt sie wieder.
At night, Paula breaks into an apartment. She lies down with a sleeping woman, gets close to her and leaves again.
Festivals (Auswahl):
Internationale Hofer Filmtage 2017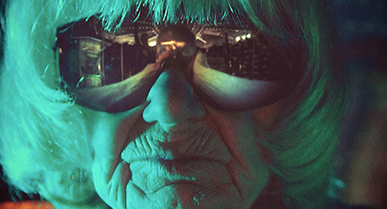 photo © Moshel Film / August Schram
METUBE 2 – AUGUST SINGS CARMINA BURANA
Spielfilm | AT 2016 | 5 Min. | R: Daniel Moshel | OV mit engl. UT
Nachdem sich Elfie und ihr nerdiger Sohn in METUBE 1 erfolgreich zu Hause vor der Webcam bewiesen haben, wagt sich das ungleiche Paar jetzt auf die Straße. Ihre neue Darbietung stellt jeden bisherigen Flashmob in den Schatten!
After Elfie and her nerdy son August successfully proved themselves on their home webcam in METUBE 1, the odd pair venture onto the street to present the biggest, boldest, and sexiest operatic flash mob the internet has ever witnessed!
Festivals (Auswahl):
Sundance 2016, Indielisbo 2016, Vienna Shorts 2016, Seattle Film Festival 2016, Inside Out Toronto 2016, Frameline San Francisco 2016, Uppsala Short Film Festival 2016, Interfilm Berlin 2016, Xposed Festival Berlin 2017, Annecy Animation Film Festival 2017, Encounters Bristol 2017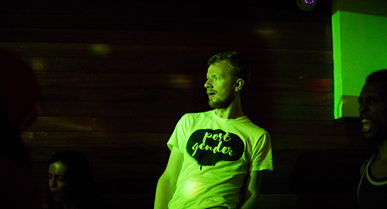 photo © Katia Repina, Carla Moral
MY OWN WINGS
Dokumentarfilm | US/ES/UA 2016 | 8 Min. | R: Katia Repina, Carla Moral | engl./span./russ./franz. OV mit engl. UT
Der kurze Dokumentarfilm ist Teil eines Fotoprojekts, das die Identitäten von Intersexuellen in den USA, in Spanien und in der Ukraine erforscht.
A documentary project that aims to explore the intersex identity through stories of intersex people in the USA, in Spain and in the Ukraine.
Festivals (Auswahl):
In/Out Transylvania Photo Festival Cluj-Napoca 2017, TransNation Film Festival 2017 Los Angeles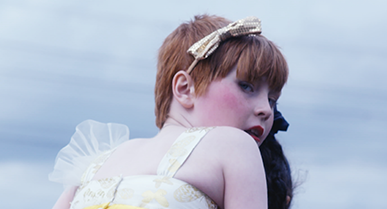 photo © Lopta Film
PRINCESS
Spielfilm | DE 2017 | 16 Min. | R: Karsten Dahlem | dt. OV mit engl. UT
Als Bandenboss Ole (11) zusammen mit seinen Jungs Marco (10) und Milan (12) den Schulranzen der zwölfjährigen Davie 'zockt', denkt er nicht im Traum daran, dass er wenig später zusammen mit ihr, geschminkt und in einem Prinzessinnenkleid auf der Bühne eines Schul-Karaoke-Contests stehen wird… und seine Freunde erst recht nicht!
When gang leader Ole (11) and his buddies Marco (10) and Milan (12) nicked 12-year-old Davie's school bag, Ole would never in his wildest dreams have imagined that a short time later he would appear on stage with Davie at a school karaoke contest dressed as a princess with makeup on… neither could his friends.
Festivals (Auswahl):
Max-Ophüls-Preis Saarbrücken 2017, Lovers Festival Torino 2017, BuSho Budapest Short Film Festival 2017 (Best Actor, Best Actress), Pride Pictures Karlsruhe 2017, Uppsala Short Film Festival 2017, Asiana Seoul Short Film Festival 2017, Brest European Short Film Festival 2017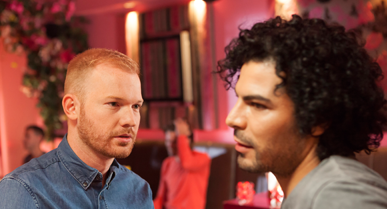 photo © Morgenster Films
Rainbow Refugees München präsentieren
SCAR TISSUE
Spielfilm | NL 2017 | 15 Min. | R: Nish Gera | OV mit engl. UT
Eine zufällige Begegnung in Amsterdam nimmt eine sehr persönliche Wendung, als Johan auf Sami trifft, einen Geflüchteten aus Damaskus. Im Laufe einer Nacht müssen sich die beiden Männer unangenehmen Wahrheiten und beunruhigenden Geheimnissen aus ihren unterschiedlichen Welten stellen.
A casual hookup takes an intimate turn when Sami, a Syrian refugee from Damascus, meets Johan. In the course of a night in Amsterdam, the two men will confront some truths, and unsettling secrets, about the very different worlds they come from.
Festivals (Auswahl):
ImageOut Rochester LGBT Film Festival (Best Short Film), Inside Out Toronto 2017, Pink Apple Zürich 2017, Film Out San Diego 2017 (Audience Award Best Male Short Film), Tel Aviv International LGBT Festival 2017, Pink Screens Brussels 2017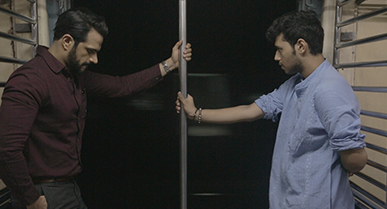 photo © Faraz Arif Ansari
SISAK
Spielfilm | IN 2017 | 15 Min. | R: Faraz Arif Ansari | ohne Dialoge
Der erste stumme LGBTQ-Film aus Indien spielt im hektischen Pendler-Alltag der S-Bahn in Mumbai. Langsam entwickelt sich ein bezaubernder und mitreißender Flirt inmitten der schweigenden Begegnungen am Ende des Arbeitstags.
A first-of-its-kind silent LGBTQ film in India, SISAK is set in the fast-paced environs of the usually bustling Mumbai local train system. It details a romance that develops slowly and intoxicatingly, nestled in the silences and quiet comforts of the end-of-day train journeys.
Festivals (Auswahl):
Iris Prize Cardiff 2017, QUEER-Streifen Regensburg 2017 (Jurypreis, Publikumspreis), FilmOut San Diego 2017, Mumbai International Queer Film Festival 2017, Fringe London Queer Film Fest 2017, Arlington International Film Festival 2017 (Best of Festival Short), Miami Short Film Festival 2017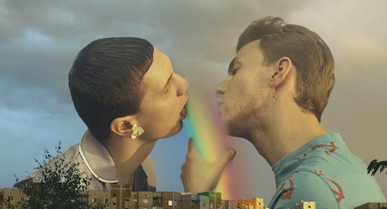 photo © Tommy Cash
SURF
Musikvideo | EE 2017 | 3 Min. | R: Tommy Cash | engl. OV
Das neueste, surreale und wilde Musikvideo des estnischen Kult-Rappers Tommy Cash
Tommy Cash's latest, surreal and wild music video!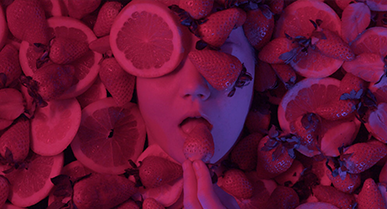 photo © Paul Scheufler
TASTE OF LOVE
Experimentalfilm | AT 2017 | 5 Min. | R: Paul Scheufler | dt. OV mit engl. UT
"Wie schmeckt die Liebe?" Süß, sauer, bitter oder salzig? Ein Mädchen begibt sich auf einen aromatischen Trip der Liebe und reizt ihre Geschmacksknospen bis zum geschmacklichen Höhepunkt. Mit allen Sinnesrezeptoren erkundet sie die unterschiedlichsten Formen und somit Geschmäcker der Liebe.
"What is the taste of love?" Could it be sweet, sour, bitter or even salty? A girl embarks on an aromatic journey of love, stimulating her taste buds to the point of climax. With all senses, she explores the various forms love can take on.
Festivals (Auswahl):
My Film Festival Toronto 2017 (Best Experimental Short), Shortynale 2017, Iris Prize Cardiff 2017, Cinema Next Graz 2017, QUEER-Streifen Regensburg 2017, Fringe London Queer Film Fest 2017, Black Nights Tallinn 2017, Filmz Mainz 2017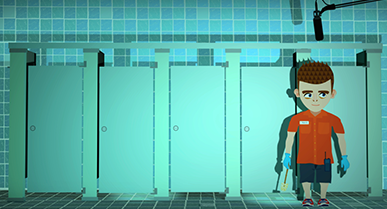 photo © Blair Fukumura
THE NIGHT CLEANER
Animadok | CA 2017 | 5 Min. | R: Blair Fukumura | engl. OV mit dt. UT
Als Putzmann in der belebtesten schwulen Sauna Kanadas ist Travis an die ausgefallenen Pflichten gewöhnt, die ein so Testosteron-geschwängerter Arbeitsplatz mit sich bringt. Mit Zurückhaltung und guter Laune lässt er die Zuschauer eine Nacht lang an seinen meist heiteren Erlebnissen teilhaben.
As the night cleaner in Canada's busiest gay bathhouse, Travis has grown accustomed to the unusual duties that befall an employee in such a testosterone charged environment. With good humour and a touch of shyness, Travis takes the audience on an amusing, and sometimes harrowing tour through his nightly duties.
Festivals (Auswahl):
Cinequest San Jose 2017, Inside Out Toronto 2017, Fringe London Queer Film Fest 2017, LSF Hamburg 2017, Outfest Los Angeles 2017, QUEER Filmfest Weiterstadt 2017